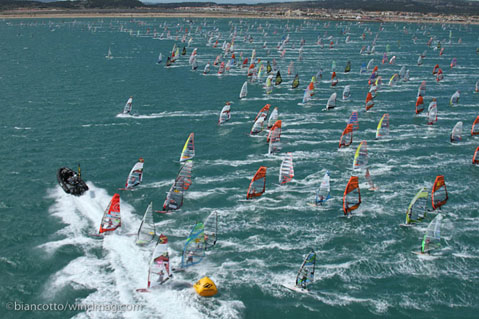 PRESS RELEASE – 29TH MAY 2014
DEFI WIND 2014 PLAGE DES CHALETS – GRUISSAN – FRANCE
RECORD-BREAKING PARTICIPATION FOR THE 14TH EDITION OF DEFI WIND IN GRUISSAN. 1,000 COMPETITORS OR "CHALLENGERS" FROM 27 DIFFERENT COUNTRIES, ALL HERE TO DEFY THE NOTORIOUS TRAMONTANE WIND FROM THE LANGUEDOC-ROUSSILLON REGION. ADDING TO THE RECORDS, DEFI WIND IS DEFINITELY THE LARGEST GATHERING OF WINDSURFERS IN THE WORLD. AN INCREDIBLE SUCCESS STORY, ALL THANKS TO A HANDFUL OF ENTHUSIASTIC ORGANIZERS.